COSMOFON FIRST WITH 3G TECHNOLOGY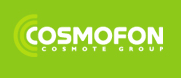 National.

The Macedonian mobile operator, "Cosmofon" has won the tender in getting the rights to use the radiofrequency for the communication network and services of the 3G technology.

The comission for Electronic communication stated that Cosmofon was the company with the best offer in which they pay 10.500.000 euros for the 3G licence. T-mobile was also applying in the tender. The licence is given for a period of 10 years with the possibility of continueing.

With the coming of 3G technology, high speed data transfer on mobile phones, video call services and high speed internet have been made possible.

MD: Not sure what 3G exactly is? Or want to know more about it? click on the link below
[ohridnews]