ECONOMY RISING UP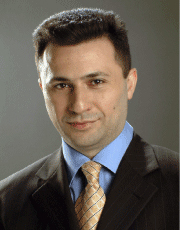 National.

igher revenues in July are a sign for a beginning of economic recuperation following the global downturn, Prime Minister Nikola Gruevski told reporters on Sunday after the cornerstone-laying ceremony that marked the start of a construction of Memorial House of Kemal Ataturk - the founder of modern Turkey.

The collection of budget revenues in July was the best in comparison to previous months, while the State Statistical Office announced that the unemployment rate in Macedonia registered a downward trend in the first quarter of this year, the Prime Minister said, pointing out that both indicators were rather positive in a period of global economic crisis.

He expressed hope for the favorable trend to continue, adding that it is too early to say that the crisis is coming to its end in the world and at home.

If everything develops as planned the foreign investments in Macedonia for this year may reach about EUR 200-250 million, which is more than expected in a period of crisis, Gruevski said, adding that FDI amount for the first five months was at EUR 100 million.

- Our expectations are higher, as the amount of foreign investments in 2007, 2008 has been the best thus far, unusual for Macedonia - at about EUR 400-500 million. Now we are expecting more. But considering the fact that we shall have about EUR 200-300 million in a period of global economic crisis and compare this amount with the years before 2006, we may say that it is not that bad. I wish to however remind that the crisis is still powerful, having strong impact across the globe and naturally in our country, hence the fight against its mitigation in Macedonia should resume, Gruevski said.

[Mina]