MACEDONIA - CROATIA 2-0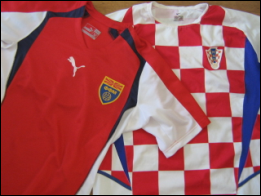 Sports.

The Macedonian nationall football surprisingly managed to defeat Croatia with 2-0 in the Gradski stadium in Skopje last night.

In what was an exciting game on a horrible muddy field, Macedonia scored twice. the first in the 71st minute by Maznov and again in the 83d minute by Naumoski.

This match wasnt of real significance for Macedonia in the qualifying and Croatia has already qualified for the Euro 2008 tournament. Next wednesday Macedonia will take on Israel away in the last game of the qualification cyclus.

MD: It feels so good to win sometime! Let's hope we can do the same in Israel to end this qualification with a bit of Macedonian sunshine!
[MD Network]