OVER 40.000 PEOPLE HONORED TOSE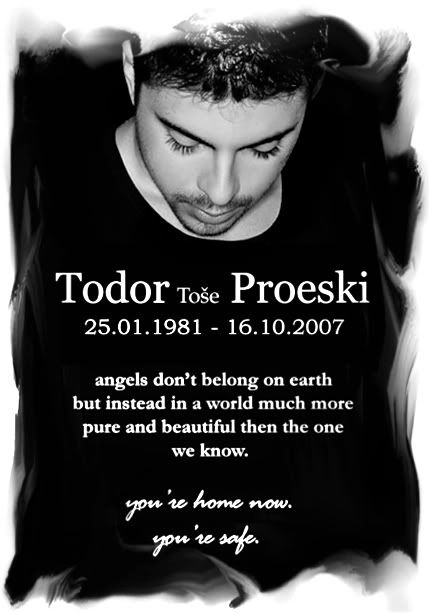 National.

The huge humanitarian international concert titled "We Love You Too Tose", held yesterday evening in Skopje's City Stadium in honour of the Macedonian musical icon Tose Proeski summoned over 40.000 people from Macedonia and the region, who sang for him for almost four hours.

Tose's wish to sell out the City Stadium again with his music, after his successful and what turned out to be his last ever concert on Oct. 5 2007, was fulfilled last night.

Fifth October to become the day and humanity and music - was the message conveyed at Sunday's concert.

Kaliopi, Simon Trpceski, Aki Rahimovski, Adrijan Gaxha, Ruslana, Sintezis, Bilja Krstic, Marija Sestic, Bojan Marovic, Goca Trzan, Toni Cetinski, Nina Badric, Zeljko Samardzic and many more performed last night in honour of Tose Proeski, who was killed last year on Oct. 16 in a car accident in Croatia.

At the beginning of the concert the 40.000-strong audience was addressed by Prime Minister Nikola Gruevski, who also received a statuette symbolising humanity by the Tose Proeski Foundation.

Furthermore, the Foundation launched its activities and projects towards preserving Tose's body of work with Sunday's concert.

The music spectacle was aired live in over 20 countries - in all former Yugoslav republics, including Cyprus, Bulgaria and Romania.

The concert, organised by the Tose Proeski International Foundation, was held under the auspices of the Government of Macedonia and the Ministry of Culture.

[Mia]