MILLENIUM CROSS FINISHED UNTILL JUNE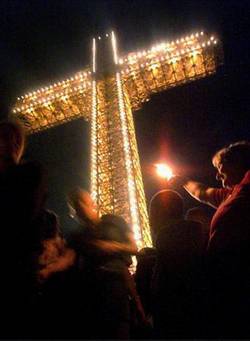 National.
Skopje's millenium cross will be finished untill june, is what was announced at a press conference yesterday by the foundation of the cross and the minister of transport, Mile Janakieski.
They also announced that besides finishing the cross there also will be a rope railway from "Sredno Vodno" to the cross.
"For the whole finishing of the cross we need about 400.000 euros, for the road 85.000, for the lift and the restaurant 350.000 euros. A part of money we get from the government and the rest from donations. In january we will have a tender for the construction of the rope railway," said Blagoja Dojcinovski, the president of the Millenium cross foundation.
Monday there will be a donator's conference in hotel Aleksandar Palace, beginning at 19.00 and there is also a possibility to donate by phone at 0038970143155.
MD: Off off, the millenium cross, it has been standing there for quite a few years now and still hasn't been finished. Even for a long time the electricity hasn't been paid because of a money shortage. Typicall Macedonian thing, something is being build very fast and then it will never be finished.