HEAT WAVE IN THE BALKANS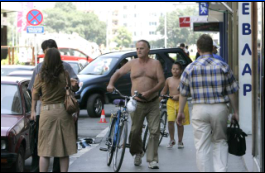 Regional.

Southeastern Europe baked in searing temperatures, which is unusual for this period of the year.

Turkey will be hit with another heat wave as of Tuesday, with temperatures rising five to six degrees above the June average, Macedonia will also notice higher temperatures of this wave. Electricity supplies, particularly in Greece and Albania, were straining to keep up with demand as air conditioning use spiked during the year's first major heat wave.

Temperatures in Macedonia reached 40C to 46C while some places in Turkey the temperatures reached to 51C, according to state media.

The heatexacerbated by high humidity and pollution levels, had tourists and residents scurrying for shade and guzzling cold water. Many abandoned the cities for local beaches.

Meteorologists said this could be the warmest June in 90 years and that the Balkans are on track for the hottest summer in a quarter century - adding fuel to global warming fears.

Romania has been particularly hard hit. 20 people have died of heat-related causes in the past few days, including 14 in the capital, Bucharest, the country's Health Ministry said

MD: It really is hot, the climate is changing, it seems that Macedonia has got Egyptian climate and northern Europe, the Balkan climate.
[MIA]