IVANOV ON FIRST OFFICIAL TRIP TO BRUSSELS
iva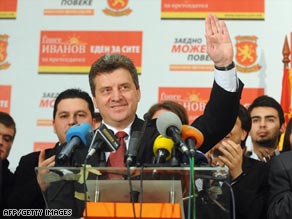 National.

Macedonian President-elect Gjorgje Ivanov, who will take an oath of the office Tuesday, is set to head on his first trip abroad Wednesday with a visit to Brussels.

Ivanov picked Brussels as his first official travel destination one day after he takes up the office of president of Macedonia. Sources in Brussels said the meeting with the EU High Representative for Common Foreign and Security Policy, Javier Solana, has been confirmed.

According to Utrinski Vesnik daily, Ivanov will travel to Brussels along with Prime Minister Nikola Gruevski. They will meet with the Belgian King Albert II and Prime Minister Herman van Rompuy.

[Makfax]