EX MINISTER ARRESTED IN POLAND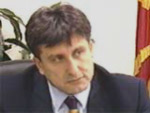 National.

The former Macedonian Health Minister, Vlado Dimov, was arrested on Sunday at the Warsaw's airport while he was boarding a plane headed to Bulgarian capital Sofia, local media reported.

According to unofficial information, except for the Macedonian passport, Dimov might have possessed another one, most likely a Bulgarian one, which he used for traveling.

The information for his arrest was forwarded through the Interpol offices in Warsaw and Skopje.

Dimov has been detained under an international warrant issued by the Macedonian Police upon order of the Strumica District Court. The ex-minister had been suspected of power abuse.

He is accused of having approved employment of 17 persons in 2005, when he served as a Health Minister, thus damaging the State Budget by 2.5 million euros. The 17 'ghost' individuals figured only on payroll.

It is still unknown when will Dimov stand before a court in Poland, which will decide on his extradition to Macedonia. Macedonian authorities are also seeking for Dimov for unpaid taxes.

[Mina]