MACEDONIA BEATS ISRAEL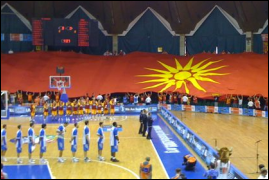 Sports.

Nerve racking match, in which Macedonia decided their faith whether they'll quailfy to the next round. Once again plagued by horrific three point shooting and a Serbian referee the Macedonians managed to defeat Israel 82-79.

With this victory, Macedonia will move to the next round, while Israel is going home. Reverse of fortunes there, for a change Macedonia moves on and Israel will pack their bags.

The red and yellow had started the match on a positive note, slowly building up their lead which early on jumped to seven points. Everything was well until a Serb referee took over the match and started to call non fouls on Macedonia while ignoring most offensive and defensive fouls by the Israelis. This kind of refereeing helped the Israelis claw back within two points.

On half time, Macedonia lead with 40-39. In the second half, Macedonia once again lead by seven and later by nine points, though Israel once again managed to reduce the lead to a single point with 2 minutes left.

The referees gave Israel more than three chances to take the lead, but Israel took the gifts for granted and failed to score each time.

Massey and Pero Antic were the key to Macedonia's offense and defense. Jeremiah Massey in particularly showed how the red and yellow jersey needs to be represented. Massey blocked shots, scored threes, scored in vital situations and rallied his team mates. Massey finished the match with 15, while Antic added 19 points.

MD: Macedonia advances into the next round and will likely play against France on friday.
[Mina]