MACEDONIA LOST - 86-54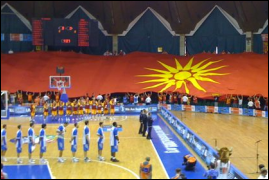 National.

Macedonian national team started with severe defeat the European Basketball Championship that kicked off in Poland today.

In its worst game so far, Macedonian team lost from the World Championship runner-up Greece.

Only five minutes into the game, Greece amassed 15 points lead which continued increasing up until the final 86:54.

Throughout the match, Macedonian players showed nothing but confusion. The team was nowhere near being up to the task in both defense and the attack, with disastrous field-goal percentage, especially the three-point shooters.
About 300 Macedonian and some 50 Greek fans were among the attendants of the match played in Poznan. No incident broke out on the stands and the players of both teams shook hands in a friendly manner.

Macedonian continues its participation at Eurobasket on Tuesday with the match against Israel – the crucial game for making it to the next stage of the tournament.

It was interesting in Skopje, where Macedonians sat together with Greek fans at a coffee shop near the Greek Consulate. Good atmosphere throughout the match, fans enjoyed 'Skopsko beer' with salad and roasted chicken.

MD: Too bad, congratulations to our Greek readers! But it was sure nice to see the face of the Greeks when they saw our huge flag.
[Mina]