FIRST MACEDONIAN IN THE USA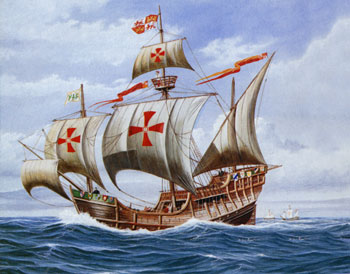 Diaspora.
Although Macedonian immigration to the United States did not begin until the early 20th century, there is evidence to suggest that the first Macedonian to arrive in America, "Dragan of Ohrid", sailed with explorer Christopher Columbus.
There are different story's of Dragan. One story claims he was a religious heretic who escaped persecution in Macedonia by fleeing to Spain. He was later discovered, however, and condemned to death. Columbus saved Dragan from burning at the stake by recruiting him for his first trip to America.
Another story says that Dragan was expelled from Ohrid with his family when he was a child, after the city fell to the Turks. The family then moved to Spain, where Dragan went in the military, he became a favorite of the crown, and sailed with Columbus on his second voyage.
According to this story, after Dragan returned to Europe he formed his own expedition and sailed with his crew to Venezuela. Seeing that the native people there lived along the water in marshy areas, as in Venice, he bestowed the name "Venezia" on the land. He then went to Panama and became the first white man to set foot in that country.
Very interesting! We are eager to hear more about this.