MACEDONIA ASKS UKRAINE FOR URGENT GRAIN SHIPMENT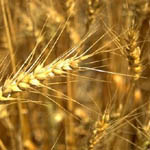 National.

Macedonia asked Ukraine to allow an urgent import of wheat, maze and barley, says an official announcement released in Skopje.

The request was made by a high governmental delegation, which kicked off two-day visit to Kiev on Thursday.

The Ukrainian Government vowed "to encourage the domestic companies to consider the option for delivery of maize, wheat and barley in order to satisfy Macedonia's demands", the announcement says.

The Macedonian delegation is comprised of the Vice-Prime Minister Zoran Stavrevski, Economy Minister Vera Rafajlovska, Transport Minister Mile Janakievski and the Director of the Customs Administration Vancho Kargov.

The highlights of discussions between the Macedonian and Ukrainian officials include the modalities for deepening of the trade exchange as well as for better utilization of the quotas and concessions deriving from the bilateral Free Trade Agreement from 2001, particularly in the fields spanning agriculture, industry, transport and construction.
MD: A Protocol for improving the economic and trade cooperation and an Agreement for cooperation between the customs administrations of Macedonia and Ukraine were also signed in the course of the visit.
[MakFax]