DISASTER IN OHRID LAKE - BOAT SINKS - 17 DIED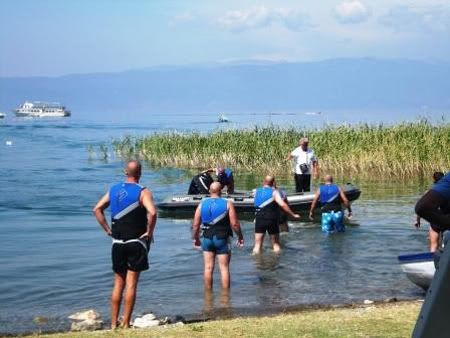 National.

The tourist boat "Ilinden" carrying about 50 passengers sank at about 300 meters from the Ohrid Lake shore close to camping Elesec around 11.00 local time. So far there are reported 17 deaths of which 3 children. The boat was on its tour to St.Naum and back with predominantly Bulgarian tourists.

Eyewitnesses said that the boat sank fast in almost one minute. A team of divers, doctors and lifeguards are on the place to help and seek for suvivors and removing the dead passengers out of the water. Also helicopters are providing assistance.

President Ivanov and Prime minister Gruevski are on their way to Ohrid as well as the health minister and minister of interior affairs. Bulgaria has sent a governmental airplane to Ohrid since the passengers were a Bulgarian group, as anounced by Bulgarian president Bojko Borisov after a talk with PM Gruevski.

Many people from Ohrid were afraid for something like this to happen, since the security for boats on the lake is mostly below standards and too much people than the boats can take are let on.

So far nothing yet is known about the reason why it sank.

[Mina]