RESTORATION OF ST.CLEMENT UNIVERSITY IN OHRID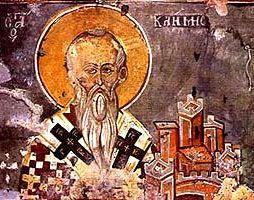 Culture.
There are plans for the restoration of the St.Clement University in Ohrid. The plan was presented by Prime minister Nikola Gruevski during the third Regional Ministerial Conference on the Protection of Cultural Heritage.
"The idea is to restore monastery shelters in the spirit of new time, to make a corresponding reminiscence of the 9-10 century University where St. Clement educated 3,500 disciples who later went on to convey knowledge throughout the world," ,said archeologist Pasko Kuzman.
The plan is too include the Faculty of Philosophy and the Faculty of Theology at the university.
"Our thinking is directed to this idea but it should be elaborated and would benefit all the activities there i.e. both the Macedonian Orthodox Church and other activities in the Macedonian cultural public. We have universities in Skopje, Tetovo, Bitola and now we are not making a fourth or fifth such university. As an archpriest, I advocate embedding elements of the educational activities that St. Clement University contained besides the spiritual, moral and church elements. Some student's activities, lectures, seminars or drills can be carried out in it. Still, it should be built in modern spirit, we will not restore cell schools," ,said Vladika Timotej.
MD: This university was one of the oldest in the world, it would be great to see it restored!