MACEDONIA INFORMS TURKEY ABOUT INTERNATIONAL COURT CASE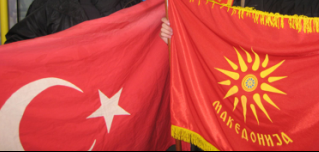 National.

The foreign minister of Macedonia, Antonio Milososki, has sent a letter to his Turkish counterpart, Ali Babacan, personally notifying him of a file Macedonia referred to an international court against Greece, it has been revealed.

Macedonia lodged the complaint Nov. 17 at the International Court of Justice at The Hague after Athens blocked its bid to join NATO due to an ongoing dispute over naming rights. It was not immediately clear when the court would hear the case.

"The difference over the constitutional name of the Republic of Macedonia is not the subject matter of our application with the International Court of Justice. The Republic of Macedonia remains strongly committed to the process of negotiations with Greece, mediated by the special envoy of the U.N. Secretary-General," Milososki told Babacan in the letter, learned the Hürriyet Daily News & Economic Review.

"I strongly believe that the full respect of the Interim Accord would be in the interest of both countries and would positively influence development of friendly and good-neighborly relations," he said to Babacan.

Macedonia says Greece has violated a 1995 interim accord obliging Athens not to object to its membership in NATO or any other international organizations. Greece wants Macedonia to change its name on the grounds the name implies a territorial claim against the Greek region of Macedonia. Negotiations between the two countries are deadlocked at the United Nations.

At the last NATO summit in April, Greece blocked Macedonia's bid to join the alliance, while Albania and Croatia were invited to enter. Turkey, the first country to recognize Macedonia and to assign an ambassador to Skopje, is one of the strongest advocates of the country's membership in NATO.

A Turkish diplomat told the Daily News that Macedonia must be subjected to the same criteria as other candidates. "Bilateral disputes should not hijack Macedonia's participation in international organizations," said the diplomat, who wished to remain anonymous.

Turkey recognizes Macedonia by its constitutional name.

[Hurriyet]