MACEDONIA TIMELESS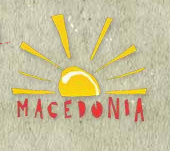 National.

A video, "Macedonia – Timeless," the first in a series advertising videos aimed at promoting Macedonia in the world as a tourist destination, will be promoted in the Museum of Contemporary Art at 12.00 p.m. today.

Authored and directed by Milcho Manchevski, the video is starting its promotional journey on 25 December on CNN and CNN International only to resume it in a dozen of countries in eight more languages. A web page, www.macedonia-timeless.com, has been created to support the campaign.
MD: Simply; WOW!!! Great video, it took our breath away for a second. This video represents Macedonia at it's best. What else should we have expected of Milco Mancevski, he is a great artist!! Lovely to see how he added ancient macedonia in the clips, how he used the beautifull song "uci me majko, karaj me" and that he added NY Times articles about Macedonia on the site.
[Culture.in.mk]