SINGING STATUE?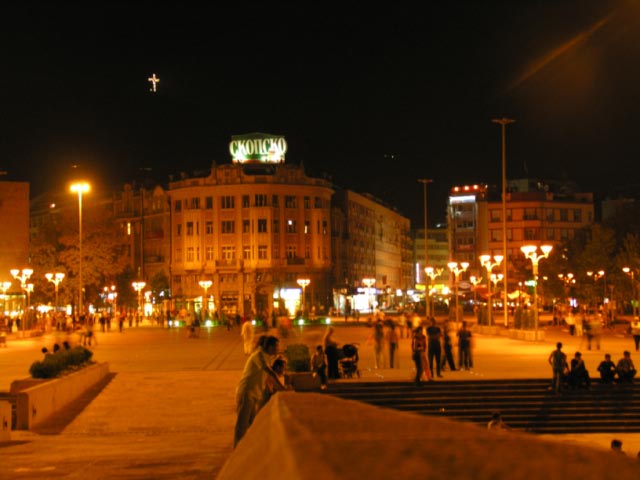 National.

If a Macedonian mayor has her way, the landmark gracing Skopje's main square would in a novel way bring together two men seen as among the nation's greateast sons: Alexander the Great mounted on a horse, floating in a fountain to tunes of revered late pop star Tose Proeski
The mayor of Skopje's Centre municipality, Violeta Alarova, came out with the idea as a possible compromise after the Skopje city mayor complained that instead of erecting a statue of Alexander in the prime downtown location, a statue of Proeski would be more appropriate, and also avoid a confrontation with Greece.

"The fountain will be really nice. It will play music including two songs by Tose Proeski", Alarova said, as quoted by the local Nova Makedonija daily. She mentioned no deadlines for the project.

Most of the people who left comments on Nova Makedonija's web site were appalled of the Singing Alexander idea, saying it would be unimaginably kitsch. One reader suggested installing a vending machine on the sculpture's stand to complete the picture.

No plans were ever made public for the statue, but local media reported it would be some 30 meters in height, higher than some neighbouring buildings. No one has yet officially denied or confirmed its dimensions.

"I am the mayor and I hear this for the first time", Skopje mayor Trifun Kostovski said after Alarova had told media of her plans.

The origin of the ancient conqueror Alexander is part of the 18-year long name row between Athens and Skopje, a dispute that has come to encompass history, geography and genetics and which keeps tripping up Macedonia's NATO and EU ambitions.

Proeski, whose boyish good looks and passionate, pitch-perfect delivery made him a regional favorite in the Balkans, died in a car accident in Croatia in 2007. Readers commenting on Nova Makedonija's site said any connection to the statue plans would be offending his legacy.

MD: Unbelievable, they were right on the kitsch thing. It would be a total disgrace for our king Alexander. It's not known yet which statue will be placed. Several media have announced that the Alexander statue, which was meant for Skopje's main square in the first place, is still being constructed in Italy and will be shipped to Macedonia very soon.

While constructing and while plans for the alexander statue were already underway, a small group of people suddenly came with the "brilliant"? idea of placing a Tose statue instead. There was held a poll on Skopje's website which statue the people prefer. Tose came out as the winner, but is it realistic such a poll? Probably 90% of the votes came from young teenage girls who are in love with Tose and sitting on the internet all day. We'll see! Oh yeah and miss Violeta? We think you should take a break from working, because such funny statements maybe come from people who are tired of their work and dont know what they say anymore?
[Makfax]